Newmarket Public Trails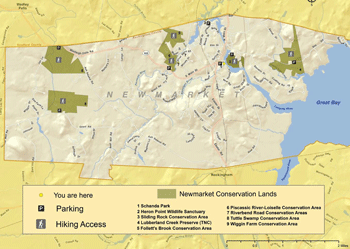 Schanda Park/Downtown Newmarket
Schanda Park, located just off Main Street in downtown Newmarket, is on the tidal portion of the Lamprey River. At only .4 acres, it is small, but well worth a visit. Visitors can view the historic mills of Newmarket, boats and boaters out on the water, abundant wildlife, and a traditional Native American fish weir from the park. The park is one of several sites in Newmarket that come alive during the annual Newmarket Heritage Day/Oyster Festival.
Beyond the park itself, Downtown Newmarket offers visitors opportunities to view the entire historic mill district, including some public spaces inside the old buildings that show the old architecture and internal workings of this once-bustling industrial hub. Walkers can also view the McCallen Dam and the fish ladder from the Route 108 bridge that crosses the Lamprey River.
To view the kiosk at Schanda Park, please click here.
To view historic photos of Newmarket, please click here.
Sliding Rock Conservation and Recreation Area/Piscassic Park Boat Launch
This 2.5 acre park lies at the confluence of the Piscassic River and the Lamprey River. As an impoundment of the McCallen Dam, the river here is wider and offers great boating access and calm waters for wading. Directions: Take Elm Street off of Route 108 in downtown Newmarket, turn onto Beech Street, then right onto Salmon Street. Bear left past the bus stop and take the second right onto Piscassic Street. The park is at the end.
Heron Point
This 30 acre parcel right on the Lamprey River has a well established half mile trail system that includes a cliff walk and viewing platforms. Directions: Take Bay Road off of Route 108 near the bridge in downtown Newmarket. Continue about .25 mile to the Heron Point Trailer Park on the right. Follow signs to the parking area.
Wiggin Farm/Tuttle Swamp
This 1.5 mile walking trail on 160 acres of conservation land crosses a wetland and field before looping back to the parking lot. The snowmobile trail is also open to walkers. Going west on Route 152, turn left onto Grant Road. Continue on for 3 miles. Parking is on the right just before Doe Farm Road.
Lubberland Creek/Sweet Trail
This extensive preserve owned by The Nature Conservancy offers short hikes of less than a mile and connects to the longer Sweet Trail into Durham. Wooded trails pass by salt marsh, freshwater marsh, vernal pools, and beaver impoundments. The Nature Conservancy website offers details and trails maps here. Because this area is so valuable for wildlife, no dogs, horses, or bikes are allowed. Directions: Take Bay Road off of Route 108 in Newmarket. Continue 1.4 miles to the parking area on the left.