Lamprey River Elementary School Eco-center, Raymond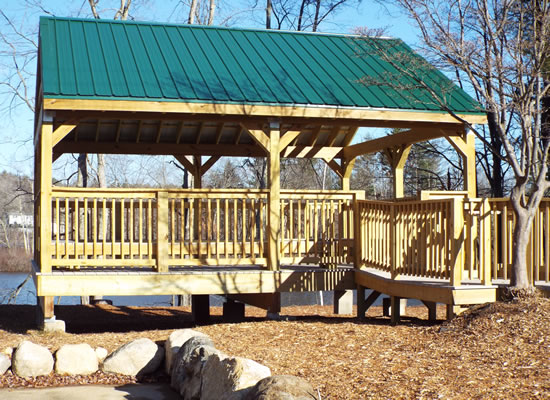 Students in Raymond are fortunate to have a school located right on the Lamprey River and accesible to several different natural habitats. Teachers have been sharing these resources with students for many years, but the experiences and opportunities were enhanced significantly in 2016. A tired, old shed by the river was torn down and replaced with a beautiful new gazebo. The gazebo has tables for outside lessons during school and picnics in the summer. It will also serve the town during its annual Lamprey River Triathlon that includes a paddling component, as well as running and cycling races. The eco-center is open to the public on weekends and during school vacations. For safety reasons, visitors to the park are not allowed when school is in session.
The main feature of the park itself is the nature trail that features twelve "stations" that help students and families explore such topics as reptiles, birds, habitats, wetlands, geology, river ecology, the water cycle, and land use change.
Related Documents
To view the signs for the stations, click on the desired panel: