Schoppmeyer Memorial Park, Newmarket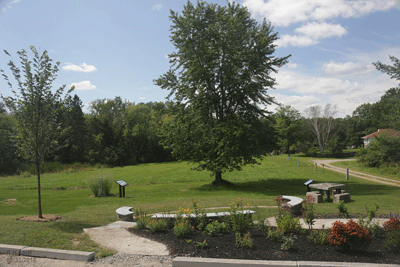 Welcome to the newest public access along the Lamprey River. Located on Route 108 beside the Newmarket Community Church Thrift Shop, this 3 acre park offers a space for peaceful contemplation and carry-in kayak and canoe access. For those who do not own a kayak, community-owned kayaks (on site) and gear can be rented from the Newmarket Recreation Department (603-659-8581 or www.newmarketrec.org). The launch dock is outfitted with a device that helps to stabilize the boat and bars that paddlers can hold onto to help keep their balance as they enter and exit their kayaks.
Chris Schoppmeyer was an important man in Newmarket, serving on the conservation commission and organizing the annual fishing derby. "Nature Boy" or "Schoppsie" was a trusted colleague and leader in federal law enforcement, serving 35 years as a conservation officer. He accomplished much and touched many through his dedication to what was legally right, socially good, and often, just plain fun. He was a great man with enormous character who left the best of himself with others. Although his life ended too soon, his memory lives on in the stories of family, friends, and colleagues. And now his memory will live on in perpetuity nestled in a beautiful little park.
The Lamprey River Advisory Committee was pleased to offer financial and artistic assistance to create this special place. Elizabeth Dudley, landscape architect and LRAC representative, generously designed the contemplative space near the entrance to the park. LRAC representative Dick Lord designed the Lamprey River panel and assisted with layout for the memorial panel.
Related Documents
To view the plaque about Chris, click here.
To view the plaque connecting this site to the Lamprey River, click here.